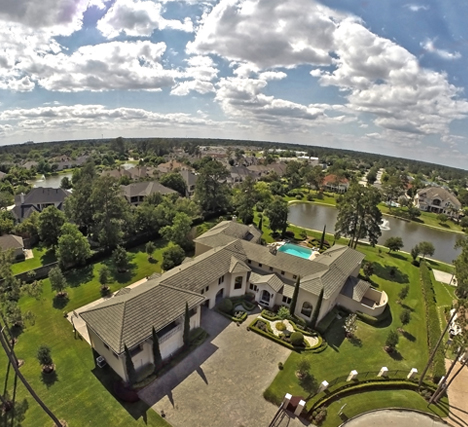 As we know the real estate industry is not different from the other industries of the world. Therefore,it is also facing many changes as technology is getting more and more advanced. The most recent technology that has been launched in the real estate business is the use of drones in order to transform the classic real estate photography into real estate drone photography. In the past two years, this technology has been invading the industry and is used by bloggers and marketers. However, many underestimate the use of this wonderful discovery in the real estate business. In fact, many real estate agents do not even know what it is and how to use it.
Nowadays drones are very much popular when it comes to real estate business. It has become one of the most loved technology in the real estate industry.Buying a house is usually a life goal that sometimes never comes true for many of us. By bringing drones in the industry, real estate agents increase the fun and release the pressure and tensions of the potential buyers, showing them the house under any angle they are willing to look at it. Drones that are sometimes considered as children toy help the future buyers stay in their comfort zone and escape the mortgage scare and the pressure form reality. The drone technology has brought a very unique perspective to marketing standards in the real estate business. Drone photos and videos also help potential buyers to have an overview, literally, on their future property.
Normal photography does not tell about the space and the size of the house. Photos only show room decorations, windows, bathroom and kitchen but with this ancient method,it is hard to find out how big the house looks. This issue has been solved drone technology, helping people making the property their own faster by giving them more details on the property. For instance, if your property has a three acre backyard, but 75% of it is hidden by trees, you cannot show that area in photos but with drone photography you can. With a drone shot, you could capture the entire yard in one picture to show them just how big a space it really is and what you can do with it.
Many people take this technology for a marketing tool. Marketing cannot be detached from the drone technology as it is there primarily to increase the business' benefits however, it has its other purposes too. You can use the drone images in order to organize virtual visits and don't waste neither your time nor the clients' time by going on site every single time.
This is a best way to show all the beautiful places nearby the house like parks, markets schools and all those places which can be useful for daily life. For that you won't have to walk to all those places to show to your clients, you can simply use drone photography.
The technology is not so old but it has shown positive results in the real estate industry in just a few years.